Bang Khao Beach Land for sale
Location: Bang Khao Beach
Size: 1-2-12 Rai (2,448 sqm)
Price: 28,000,000 THB
Land Title: Chanote x 2
Land for sale on Haad Thong Reng in Koh Phangan
The land lies approximately half way up the east coast of Koh Phangan and is adjacent to the beach of Haad Thong Reng which lies approximately 300m from the better known bohemian Taan Sadet beach resort.
Haad Tong Reng is a white sandy beach which is enclosed by a U shape formation of characterful rocks to form a natural swimming pool.
The land itself comprises 26rai of nor sor sam land on the peninsular next to Haad Tong Reng beach. It has a consistent gradient ideal for building a resort or real estate development and has superb views over the Gulf of Thailand and across to the beaches. The highest point is around 200m above sea level and it gradually slopes down to a level 20 m above the flat rock formations from where the photos on the right are taken. The site is private and secluded and has stunning views from 90% of the land and benefits from a 91m metre frontage onto the ocean which allows plenty of flexibility in developing the site.
The site is untouched jungle land and has the benefit of approval for a government road running from the main ring road (from Baan Tai to Thong Nai Pan) through the site leading to Haad Tong Reng beach which lies a 200m walk or buggy ride from the site.
The land was appraised at a value of THB 4.5m per rai earlier in the year but we would accept THB 2.5m per rai for a cash sale.
Download a land outline of the property
If you are interested or have any questions please contact us for details using our contact form.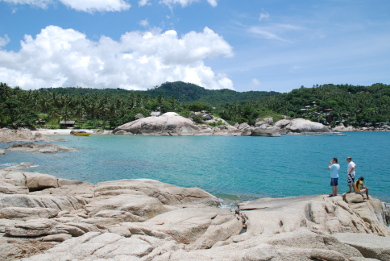 side profile of the land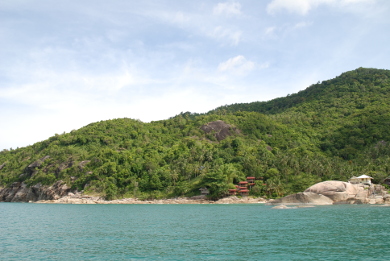 looking back at the bays from the rocks below the land