Koh Samui Construction and Maintenance – Samui's #1 Contractor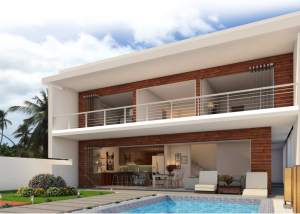 A unique investment opportunity
Koh Samui Luxury Villas consists of 4 villas designed with the newest trends and technical requirements in mind, by a team with more than 10 years of experience the local and international real estate field. Unique style and elegant tropical atmosphere – each villa has its own garden & private pool. Koh Samui Luxury Villas have a large internal and external surface with unique design elements and we can supply a beautiful inner layout fully furnished.
Price: THB 10.9 Mio – Contact us or more information or Download our Brochure (3.3 MB)
---
Read our profile on the APAC 2021 website
Koh Samui Construction was founded by UK's BBC Builder Jake Robinson. He and his team have faced many challenges over the years, and now he is bringing his expertise in building houses, shops and hotels and refurbishments to Asia. Koh Samui Construction believes in recycling wherever it can, the greener the better for everyone. We will consult all our clients and take care of all their needs during and after construction.
Our services include (but aren't limited to)
Project Planning like Architectural Services, Support in all legal issues and tasks surrounding land buying and building, Structural, Interior and Kitchen Design as well as building and maintenance services like Carpentry and Joinery, Roofing, Metal Works and many more.
Feel free to contact us right now to talk about your project.
Testimonials
"Jake has been fantastic, taking care of everything and solving problems quickly and efficiently…."
S. Kromstain
"I needed a construction company to build a big house for me. I didn't go with the big labels and went with Koh Samui Construction. The build I got was managed 100% over 9 months by Jake's team. The finished product is unbelievable."
P. Jewison

Management & Consulting
We offer local architects to draw up plans for you and we will take you through the process of construction build, down to the final interior finishings.
Land Purchasing & Building
We can help advise you on purchasing your own land, and setting up a company.
Our Services
No job is too big or too small for Koh Samui Construction. We offer a complete range of planning, construction and maintenance services including:

Building and Maintenance Services
Project Services