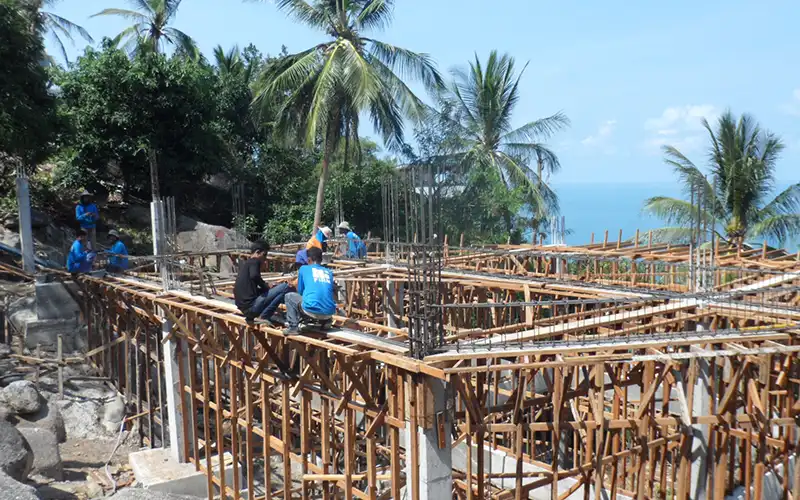 Building & Construction Services
We are highly experienced in residential building and construction as well as in light and heavy commercial building and construction. We support our clients from concept to holding the keys.
+ Development of floor plans and government building approval if necessary
+ Clearing of the building site and laying foundations
+ Building of the main load-bearing structure of your building
+ Building of the structural parts of the building
+ Install roofing with shingles or other covering types
+ Installing of the windows
+ Framing of interior walls and doorways
+ Installation of internal plumbing, air conditioning, electrical, and natural gas utilities
+ Help with legal necessities like approvement of utilities and framing
+ Installation of interior drywall panels and fiberglass insulation to make walls and ceilings
+ Installation of bathroom fixtures
+ Additional tiling on top of drywall for wet areas, such as the bathroom and kitchen backsplash
+ Installation of final floor covering (tiles, carpet, or wood flooring)
+ Installing major appliances
+ Moving in furniture, decor, personal items, and any appliances not originally supplied
Swimming Pools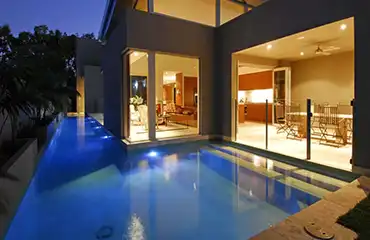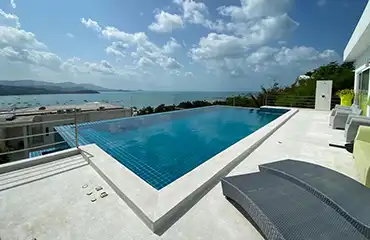 Koh Samui Construction specializes in the construction of in-ground and over ground swimming pools. Using only the best swimming pool equipment available on today's market we ensure that we provide you with swimming pools and Jacuzzis that are user-friendly, environmentally friendly and easy to maintain. We have a strong focus on customer satisfaction and will create your perfect pool into a hassle-free and reliable reality. Whether you are an existing homeowner, planning your dream home or upgrading your existing pool we will deliver a beautiful, easy to manage and relaxing swimming pool environment for you to enjoy.
Enhance your tropical lifestyle with a pool
Our planning team will advise on the materials and tools that will fit into the overall design of the swimming pool or jacuzzi surroundings and make it a perfect addition for your holiday home, commercial or residential property on Koh Samui. A beautiful swimming pool build and design has a strong architectural and aesthetic impact throughout the season and brings a new vibrant dimension enhancing existing architecture. Carefully sourced furniture will also add the final touch of luxury in paradise to turn your pool area into a haven of relaxation, enjoyment and entertainment.
Pool maintenance
We can provide all of the latest pool supplies and offer a swimming pool and Jacuzzi maintenance service.
Terrazzo Floors
Terrazzo is a composite material, poured in place or precast, which is used for floor and wall treatments. It consists of marble, quartz, granite, glass, or other suitable chips, sprinkled or unsprinkled, and poured with a binder that is cementitious, chemical, or a combination of both.
Terrazzo is cured and then ground and polished to a smooth surface or otherwise finished to produce a uniformly textured surface. Terrazzo—chips of marble, glass or other aggregates embedded in tinted cement, ground smooth and polished to a silky sheen—may have been yet another of mankind's accidental discoveries.
In the 15th century, mosaic artisans in northern Italy swept waste marble chips out onto their terraces, terrazzo, and smoothed the surface simply by walking over it. When workers learned to press the chips into a more permanent clay base, then grind and polish them with heavy stones, terrazzo caught on.
Michelangelo used it in St. Peter's Basilica. George Washington strode over it in his cherished Mount Vernon. Get in contact with us right now to see what we can do for you!
Sliding & Folding Doors & Windows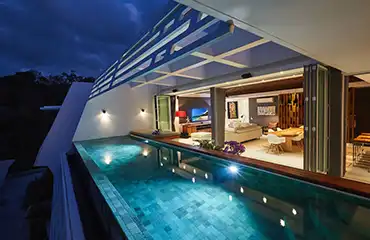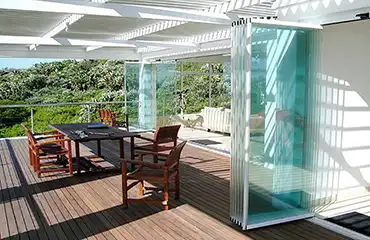 Sliding and Turning Doors SUNFLEX sliding doors systems are an aluminium sliding door design that provides many alternative solutions for any project. Its tensile strength enables extra-large glass panels to slide effortlessly, maximizing glass area to provide uninterrupted views with minimal sightlines. The slide and turn systems enhance the attractiveness of any home through the contrast of glass and wall. Their individually movable, unconnected glass panels can be opened over the entire frontage and parked as a narrow stack on the side requiring very little space.

Folding Systems The big plus of the SUNFLEX folding sliding system is its abundance of layouts and options. With different glass thicknesses or different materials, it offers the right product for any requirement. The large-scale glazing can be opened and closed comfortably utilizing interconnected panels. A transparent all-rounder with a guarantee of quality and longevity. For more detailed information please contact us.
Carpentry & Joinery
Jake Robinson has a reputation as an outstanding craftsman. His skill, talent and passion led him to become the carpenter to the stars in the UK after presenting the BBC hit series Big Strong Boys, Home Front and House invaders. He also appeared on Channel 5's House Doctor. With his team of carpenters and joiners, he offers a wide variety of carpentry and joinery services including kitchens, handmade furniture and timber maintenance services. Jake and his team offer high standards of workmanship in floor sanding and varnishing, parquet flooring, custom-built cupboards and wardrobes, doors and windows, interior and exterior stairs, decking, roofing, shuttering and formwork as well as the construction of Salas. Koh Samui Construction offers an advisory service on pest control as well as woodwork maintenance and renovation.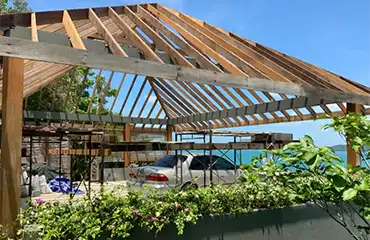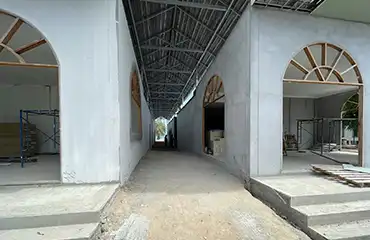 Roofing
Koh Samui Construction understands the tropical climate in Thailand and is an expert at constructing roofs that will stand the test of time. Due to the country's termites, fabricated steel is used in the construction of roofs rather than the traditional Thai wooden style roofing. The choice of roof tiles available is vast and we can construct roofs in tiles of many different shapes, colours and sizes. All of the roofing tiles we use are durable, of high quality and where ever possible eco friendly. We can provide guttering systems to collect rainwater from the roof, saving this valuable natural resource which can, in turn, be used to water your garden.
Metal Works
Koh Samui Construction specializes in steel framing and roofing as well as aluminium roofing and stainless steel guttering. We also construct and provide custom made stainless steel gates, balustrades, railings, window grilles and doors, wrought iron doors and window grills and powder coating doors. Adding stainless steel or wrought iron shutters and window grilles to your property can add style and detail while at the same time considerably improving the security of your property.
Electric Gates
Koh Samui Construction supply accesses control systems for both residential and commercial properties. We can advise on and supply gates with above and below ground automation, electric sliding gates, swing gates, cantilever gates, entry barriers, sliding gate hardware and swing gate hardware. We also advise on and install gate control panels, gate remote controls and wired intercom systems. Our range of electric gate products are supplied with reliability in mind and our automatic gates can be fitted to any style of entrance together with a door phone/intercom systems that will give you peace of mind. Our electric gates are practical, functional and styles range from simple to elegant and intricate. We also offer comprehensive CCTV systems that are compatible with all android and apple devices.
Contact Us
Get in touch to discuss your project.